Interior Designer - Olympia WA
I designed the room layout, color scheme, lighting plan, custom artwork, custom bar and furniture for this high-end award-winning (and very popular) Olympia wine bar.
I worked with fabric artist, Janice Arnold, to design these curtains made from felt-infused silk to help soften the dining area and provide privacy for those customers that wanted it.
The most spectacular view is from the large corner window area in the bar. I designed this under-lit bar with this glass mosaic to create an inviting place to gather with friends and enjoy the view. Custom glass mosaic by Jennifer Kuhns.

They wanted an atmosphere in which people felt comfortable - either spending $100 on a bottle of wine or coming in right from work to enjoying a little happy hour before heading home. I feel the playful yet sophisticated design achieved that goal.
---
Interior Design & Custom Art, Olympia Wa
In collaboration with Red Door Interiors.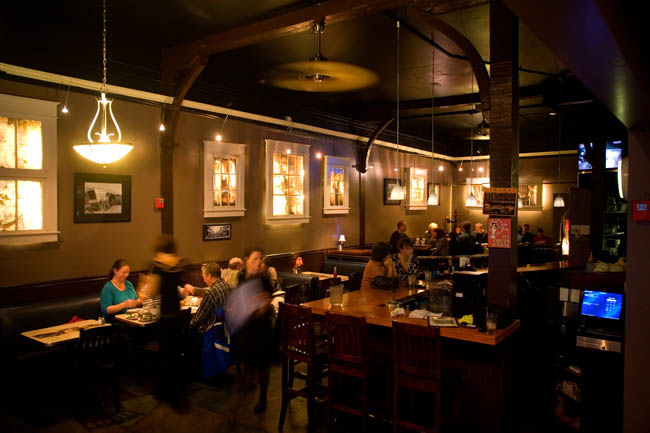 The space was a multicolored playful space. They wanted to create a more sophisticated palate but retain a casual family atmosphere. I created the light box artwork and redesigned the lighting, the seating, table tops and flooring.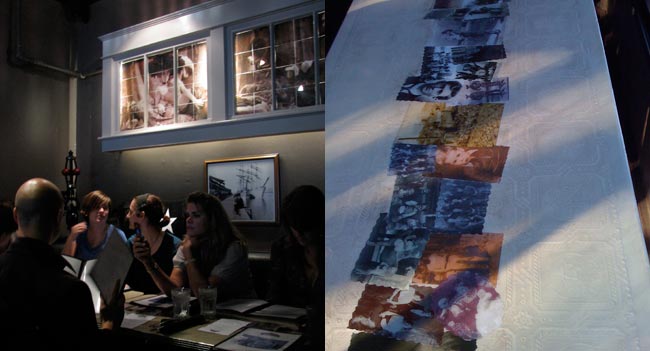 The existing tables were a cheery palate of turquoise and Easter egg green and did not work in the new muted color scheme. To save costs, we refinished the existing tables with textured wallpaper, created collages of vintage family photos, aged the whole thing and coated it with an epoxy finish to create unique new tables from the old ones.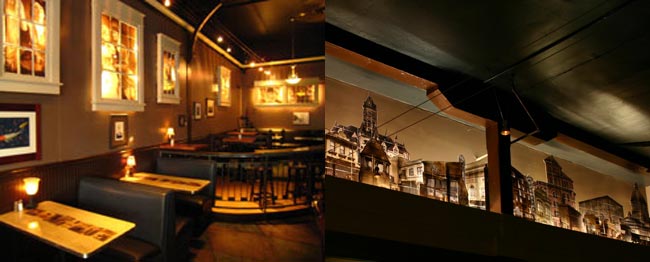 I designed a custom-built steel handrail/counter for an existing stage area. Using historical photos of Olympia buildings, created a unique internally-lit photo sculpture. They were mounted on Plexiglas and back-painted, so that in the evening, light would shine through the windows and signs of the buildings.
---
Yarn Garden and The Sipperie
Interior design, retail fixture design of a busy Yarn store with an integrated coffee shop, Portland Or
Designed store layout and retail display/storage fixtures that included built-in recessed lighting. The start up budget for this store was very small, so designed flexible and light weight shelves that could easily be adjusted to accommodate the ever changing yarn inventory. Over five years, redesigned layout and additional fixtures for three expansions of the store.
Designed a small coffee and tea shop inside the store. Designed a custom cabinet to both display and pre-warm the teacups.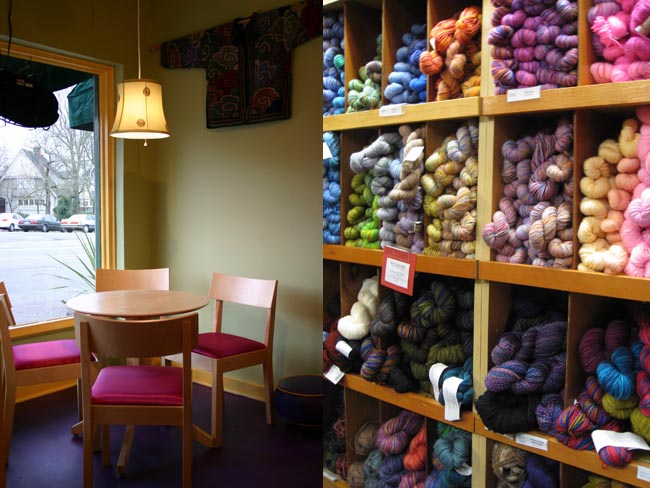 The Coffee shop included space for sitting and knitting as well as room for classes. Voted one of the top 10 new places to sip coffee by the Willamette Week, 2005.
---
Residential Design
Kitchen/bathroom remodel, Olympia 2011
Designed a full remodel of our kitchen. Designed custom cabinets, procured the unique hardware and glass for the custom-built cabinets to create a vintage feeling.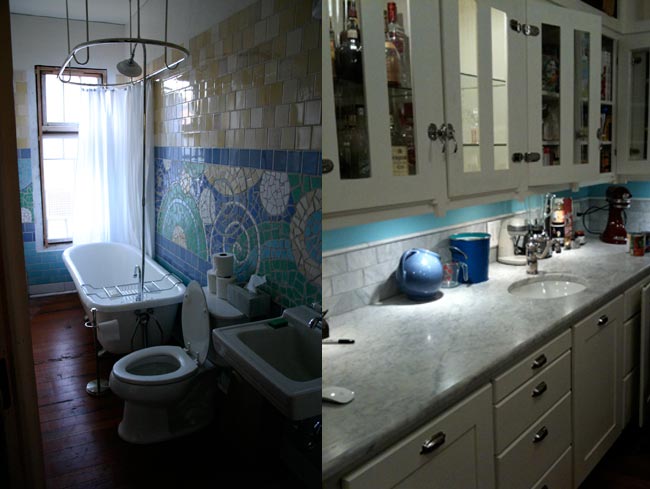 The project also included adding a new bathroom. I designed and installed the tile. Tile is expensive! To cut costs, I designed a motif that would utilize discount/recycled tile that came in small batches, but in a variety of colors. We designed the marble kitchen counters to be 30" deep to accommodate all of our appliances and still have plenty of room to cook. The bar area has a drop-in sink, to make clean up easy.